What Outcome Health must do to rebuild
BY: JOHN PLETZ 
The Rx for this scandal-shaken marketer is a booster shot of trust and transparency
Outcome Health made peace with its investors. But the company's to-do list remains daunting: Find a CEO with the chops to take a fast-growing company to an IPO that no longer seems like a given; win back credibility with customers; rebuild morale of a staff whose confidence is shaken; restore the shine to the company's badly tarnished reputation—and do it all under the watchful eye of two 30-something founders who still have majority ownership.
The backstory: Outcome Health, investors call a truce
The once-highflying digital media startup settled a lawsuit brought by investors, including Goldman Sachs, Pritzker Group Venture Capital and Google parent Alphabet's investment arm CapitalG. The founders and investors have put up $160 million, on top of $488 million raised last year. Although Rishi Shah and Shradha Agarwal stepped down from day-to-day management as CEO and president, respectively, they retain a controlling interest in the business.
The deal resolves a major headache for Outcome, which has gone from darling of the Chicago startup community to cautionary tale in less than a year. But there's plenty more pain ahead.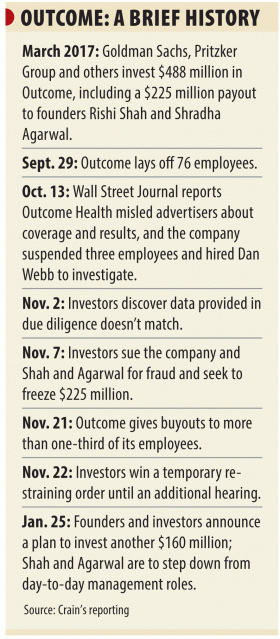 STAR SEARCH
The CEO job itself isn't easy. Outcome runs a digital media network that provides educational content and advertising on TVs and tablet computers in doctors offices. It's a business that involves patient privacy and crosses the tricky boundaries between doctors, patients and drug companies. If that weren't enough, Outcome also is squarely in the murky world of new media, where there's growing lack of trust among advertisers that their ads are running in all the places they're paying for and being seen by the people they want to attract. Government regulators and industry groups have an interest in all those things.
And there's still an internal investigation into potential wrongdoing which is being conducted by Dan Webb, a former U.S. attorney, with the Department of Justice and Securities & Exchange Commission looking over his shoulder.
"Their best shot at turning the company around is to give control to new management who can convince advertisers that the company will focus more on delivering what it promises than on chasing the unicorn/'I'm a rock star' spotlight," says Erik Gordon, a professor at the University of Michigan's Ross School of Business.
Uber—another unicorn company that replaced a high-profile, headstrong founder as CEO—landed Dara Khosrowshahi, CEO of Expedia, a publicly traded company. "It needs an Uber-style lift: a new CEO and freedom from the control of the founder team. This is not really a tech company," Gordon says. "I would be looking to someone in pharma or device marketing, or someone with internet media background. They could attract a credible person . . . for the right (compensation) package."
As part of the settlement with investors, the board has expanded from three directors (two of whom were Shah and Agarwal) to seven, with three independents. Chief Operating Officer Nandini Ramani will run day-to-day operations while the company searches for a new CEO. The founders, as majority owners, will loom large over the process.
MEA CULPA
The new CEO's top job will be to rebuild trust. The Wall Street Journal raised troubling questions about whether Outcome regularly overbilled and misled its customers, doubts that were further reinforced when investors sued Outcome for fraud, claiming it gave them falsified results, too. What's not yet been resolved is whether the deception was the result of missteps or was intentional but limited to individual employees acting on their own.
"The biggest challenge is: You've got to keep your customers," says Richard Edelman, CEO of Edelman, a public-relations firm that has a top crisis-communications practice. "Explain what happened, how it happened if, in fact, there was a breach of operations. And then say, 'This is how we're going to conduct business going forward and measure us by our work.' There's also the (CEO's) personal connection with customers—going to see them."
Outcome already has begun that process, enlisting an outside firm to automatically audit ad campaigns to verify customers are getting what they pay for. It also is auditing previous campaigns, though the company hasn't said how long that will take to complete. "We have settled, or are in the process of settling, with customers" in any cases where there were shortfalls in meeting contractual commitments, the company says.
Some customers, such as drugmaker Bristol-Myers Squibb, stopped advertising with the company. Others are taking a wait-and-see approach, pending third-party audits of previous campaigns. The company won't say how much business it has lost but says it also added new customers this year. "We've had customers renew and grow their spending," Agarwal says.
There's no way to know for sure who is spending and who isn't, or how much of a hit Outcome's revenue has taken. After cutting more than one-third of the staff, many outsiders assume the worst.
LEADING THE TROOPS​
The other big challenge for Outcome is internal. Employees are rattled after a round of layoffs and buyouts that have claimed more than one-third of its workforce, as well as the departure of several high-profile executives, including former COO Vivek Kundra last summer and Chief Marketing Officer Katherine Calvert more recently. As it was preparing to raise money last year, Outcome recruited an impressive team from the top tier of tech, including Facebook, Salesforce and LinkedIn. Recruiting at this level is a sales job, and it's a lot harder now for Outcome.
"They've retained talent and lost talent," says Rona Borre, CEO of Instant Alliance, a Chicago-based recruiting firm that did an executive search for Outcome. "I think they've got some life left in them. It's a nice little niche."
The new CEO will have to be a cheerleader while also changing the culture, a delicate two-step. The company already has been scrambling to put in place new procedures and technology to prevent a repeat of the problems that have gotten it into trouble. That's the easy part.
"Changing a culture is incredibly difficult," says Nicholas Pearce, a professor at Northwestern University's Kellogg School of Management who teaches leadership and organizations and also works as a consultant. "You can't burn it all down, because it alienates people who are there. As a new CEO, you have to endear yourself enough to have the credibility to lead."
That's doubly hard at Outcome, whose founder was intensely focused on creating a culture that reflected his personality. The new CEO will have to take the good with the bad and figure out which is which. The company's survival depends on it.
From: Crain's Chicago Business